■It's made for the NSX, there is no compromise■

GT−ONE F1 Series mufflers and exhausts are made with one thing in mind - the NSX. The goal was to produce an exhaust system that could produce the F1 sound and feel just like the soul of the NSX.

■Not just crafted, but track tested, and perfected■

The manifolds were designed and redesigned five times over to insure a perfect mesh of response and sound. From dyno tests on several NSX models and applications.


■Stock Fit■

Our F1 Series manifolds are made to stock length and as perfect a fit. With pinpoint welds and smoothed finish, Japanese quality is clearly detailed.

■80cm exhaust length■

F1 cars at their peak usually hit over 18,000rpm with exhausts manifolds about 40cm in length. With the NSX peak being around 8,000rpm, it's only logical to have our manifolds cut to a perfect fitting 80cm.

■A perfect angle at 14 derees■

After extensive tests of finished exhausts the angle of the junction port was tested at 12, 14, and 16 degrees. The best increase in torque was from 14 degrees. And that is what helps separate this awesome piece of machinery from less tested "competition".

■Not NA1 exclusive but...■

NSX was made with the F1 in mind and the exhaust was initially made with only 3.0 liters in mind as well. But all of our exhausts can be easily bolted on to produce a roaring NA2 as well. Please see below.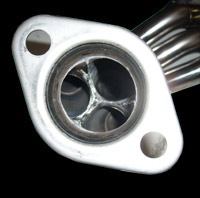 You are looking at some of the best craftsmanship in Japan. Truly beautiful parts.

50mm main pipe